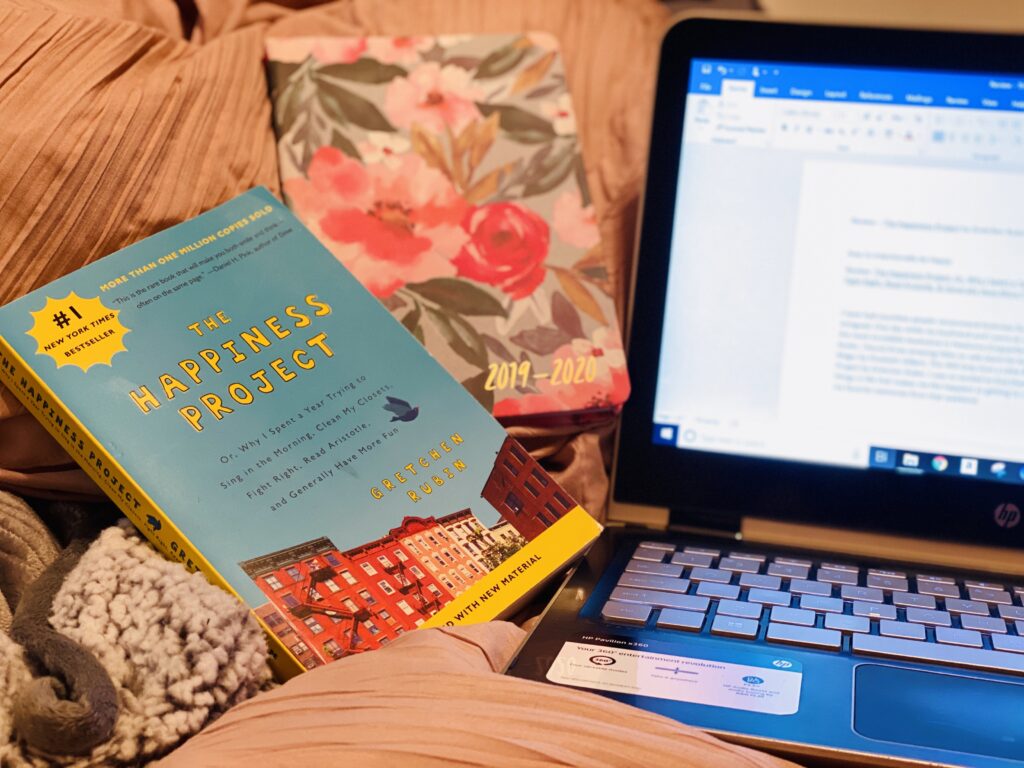 Review: The Happiness Project: Or, Why I Spent a Year Trying to Sing in the Morning, Clean My Closets, Fight Right, Read Aristotle, & Generally Have More Fun by Gretchen Rubin
We hold these truths to be self-evident, that all men are created equal, that they are endowed, by their Creator, with certain unalienable Rights, that among these are Life, Liberty, and the pursuit of Happiness.

The Preamble to the United States Declaration of Independence
I have had countless people recommend Gretchen Rubin's The Happiness Project to me so I was already intrigued. One day while my ex-boyfriend and I were on our anniversary trip to Napa County, we stopped at the most incredible bookstore in Petaluma (Copperfield's Bookstore) that was filled with new and used books. I found three amazing titles on sale (each for less than $10, score!) that I had been wanting: Big Magic by Elizabeth Gilbert, This Will Only Hurt a Little by Busy Phillips, and of course, The Happiness Project by Gretchen Rubin. I was so excited to find these. Wandering through bookstores is one of the things in life that makes me the happiest. When I got home, I knew I wanted to get to these books ASAP. I ended up starting Big Magic first, because I've heard such great things and I love Elizabeth Gilbert.
But after I started it, I found myself extremely curious about The Happiness Project. In my own life, I've also started taking action to make myself feel better (emotionally, mentally, and physically) by participating in Rachel Hollis's Last 90 Days Challenge. You can read all about it in my first blog post when I reviewed Girl, Stop Apologizing. But the basics are that for the last 90 days of the year, I do her 5 to Thrive items every single day: drink half my body weight in ounces of water, write down 5 things I'm grateful for, move my body for at least 30 minutes, wake up an hour earlier than usual and use that time for myself, and give up one category of food that I know I shouldn't be eating. I'm not even quite halfway through the 90 days yet, but I can already tell you that I feel better than I ever have before. So, I knew that Gretchen Rubin's The Happiness Project was all about her doing her own version of intentionally seeking happiness for a full year.
I couldn't wait to finish Big Magic to start it so I decided on the next best thing: to listen to the audiobook! I know that some people don't think that audiobooks count as reading, but for those of us with busy lives, they are the perfect way to get in more books that we want to read but may not be able to get to. I'm incredibly fortunate to have the career that I do. I work for an incredible company estimating on large multi-million-dollar construction projects. But this means that I spend 8+ hours a day estimating on my computer, staring at construction plans & drawings all day. I love it, I truly do. And a bonus to this job is that I can listen to music while I'm working and better yet, listen to audiobooks! Yes! This means I can be "reading" for the entire 8-hour work day while getting my work done! It's a win-win for me! My favorite types of audiobooks to listen to are non-fiction, personal development books. I love these books and I find that I get even more motivated listening to the author read them aloud and I feel even more motivated to work hard at work! The Happiness Project ended up being perfect for this.
Gretchen Rubin is a writer from New York City. She left a career in law clerking for Sandra Day O'Conner to pursue her passion to become a writer. She began to ask herself if it was possible to intentionally make herself happier. She decided to embark on a yearlong mission to design a life and take specific action in order to become happy. Is this possible? Can you come up with a plan and just decide to be happy, and then actually feel true happiness? The answer that she found (and I too, found this year) is YES. Gretchen's project was far more ambitious than just 90 days though. She settled on actively pursuing happiness for a full year. She makes clear that her action plan is specific to her and that anyone can do their own happiness project, and that everyone's personal project would look different based on their own lives, needs, and dreams. For Gretchen, she focused on a different area each month: January – Vitality, February – Marriage, March – Work, April – Parenthood, May – Leisure, June – Friendship, July – Money, August – Eternity, September – Books, October – Mindfulness, November – Attitude, & December – Happiness. To be successful and keep herself grounded, she gave herself Twelve Commandments to keep in mind throughout the process, such as "enjoy the process….lighten up….there is only love" and another list she calls "The Secrets of Adulthood" including helpful life lessons such as "It's ok to ask for help…Bring a sweater…Don't let the perfect be the enemy of the good." These basic principles helped to guide her journey and stay grounded.
Every month, she kept a short list of action items to be able to tackle the overall theme of the month. She refers to each of these action items as resolutions. This helped her to keep them at the forefront of her mind and attempt to pursue them with intentionality all month long and then to continue to pursue them in the months that followed. She found that although she didn't always keep her resolutions 100% of the time, by remembering her commitment she was able to continue on and improve in those areas far beyond what she had before. And after her year was over, she truly felt happier!
I learned an incredibly valuable lesson this year from both Gretchen Rubin, Rachel Hollis, and a few other authors as well: you are the only one that can make yourself happy. There are life circumstances that are out of our control. I know this as well as anyone. I cannot control that I have anxiety, I cannot control that I experienced difficult childhood trauma that resulted in PTSD, I cannot control that my perfectly beautiful, healthy mom went to bed one night over Thanksgiving weekend and died in her sleep, I cannot control that the trauma of that night compounded my existing PTSD and made it more complex. But do you know what I can control? I can control my daily habits, I can decide to pursue things that I already know make me happy, I can seek help in the form of a therapist, I can talk to my family, friends, and boyfriend when I need support. But the biggest lesson that I learned is that I have to be INTENTIONAL. I can't just say "I'm sad, life has been so hard, when will I ever be happy again?" I have to say "I'm going to actively do things to MAKE myself happy. No one can or should do it for me."
One of my favorite Rachel Hollis quotes is "If you're unhappy, that's on YOU." That may sound harsh to someone that has experienced life's difficulties and traumas. But I am here to tell you that it is true. I was grieving and very unhappy for a while even though I had beautiful things in my life. But I was spending time trying to self-soothe and to make myself feel better in the moment. I was not actively doing things that were actually good for me. Once I realized that there were simple things that I could choose to do every day, I felt so powerful. I realized that I've been yearning to feel happy again. While Rachel Hollis's ideas were about specific daily habits and Gretchen Rubin's ideas were about creating a plan for the year and building on what she learned, the overall idea is intentionality. You have to have specific things in your life that you are doing that will make you happy ON PURPOSE. No one can do them for you. As Gretchen Rubin says towards the end of the book: "After all my research, I found out what I knew all along: I could change my life without changing my life. When I made the effort to reach out for them, I found out that the ruby slippers had been on my feet all along…" Both Girl, Stop Apologizing and The Happiness Project are great personal development books because they truly help to give you an actual action plan. So many books seek to be helpful by introducing powerful concepts, but these books give you specific action items that you can do right now to change your life. And that is endlessly powerful.
Here are a few of my favorite resolutions that Gretchen pursued during her year of her Happiness Project:
Toss, restore, organize
Tackle a nagging task
Fight right
Launch a blog (oh hey!!!)
Work smart
Take time for projects
Take time to be silly
Be generous
Keep a gratitude notebook
Make time
Check out all the awesome books referenced in this post!!!
Life Meets Literature is a participant in the the Amazon Services LLC Associates Program, an affiliate advertising program designed to provide a means for sites to earn advertising fees by advertising and linking to Amazon.com.