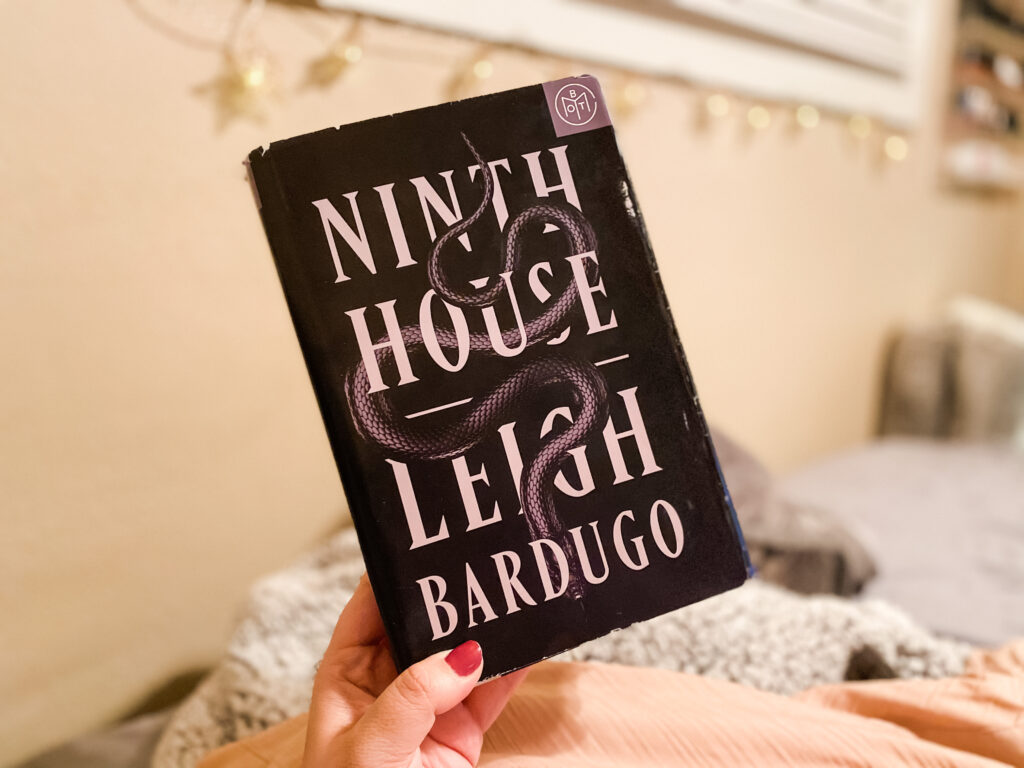 Review: Ninth House by Leigh Bardugo
I have been seeing ads for the Book of the Month subscription for years. As an avid reader, I have always considered signing up, but since I was not reading as much as I'd like, I just hadn't done it yet. But once I began to read more frequently and started this blog, I decided that it was time to get a subscription! One of the things that I love about Book of the Month is that they give you options to choose from each month that include upcoming releases or newer releases from several different genres (Click here to learn more about the Book of the Month subscription or to join for yourself!). For the month of November, I was torn between a few different books: Ninth House by Leigh Bardugo, The Family Upstairs by Lisa Jewell, and a few others. I read the summary for Ninth House by Leigh Bardugo and was intrigued instantly, even though I'm not typically a reader of fantasy. But there is just something about mysterious stories set on a university campus that just draw me in, so I took a chance and picked it! Once I began reading, I could not put it down!
Ninth House is the story of Alex Stern, a young woman with a dark and dangerous past who finds herself at Yale University on a full ride, but there's a catch. Her tuition is being funded by an organization that has tasked her with helping to monitor the activities of eight secret societies on the Yale campus; activities that are filled with magic, darkness, and power. Something strange is happening in New Haven and it is up to Alex to figure it out.
I love stories that are set on university campuses, especially those in New England. There is something beautiful and mysterious about the way these campuses look. My own alma mater, The University of the Pacific is often described as looking like an ivy league New England university of the west coast. This is one of my favorite things about my university's campus. The brick buildings and ivory columns are absolutely beautiful, especially in the fall. And as a sorority woman myself, I'm fascinated with secret societies. Although, my organization is an international Panhellenic sorority and is vastly different than those societies in Ninth House. I'm drawn to the ritual aspect and that the secrets and legends of the organization are only known to its members. When I selected this book, I did not expect a lot of what happens within the secret societies. There were so many twists and turns. It started slow but once it picked up, it took off like a shot. I could not put it down. I recommend this for any fans of fantasy but honestly, you don't have to be a fantasy reader to enjoy this one. It was my first fantasy novel and I loved every minute of it. I think it's great for anyone that loves a mysterious story of any kind. And a bonus: Amazon is developing the book for a TV series! Score! Check back for future posts of my other BOTM picks such as my choices for December: Red, White, and Royal Blue by Casey McQuiston and A Woman is No Man by Etaf Rum.
Check out the books referenced in this post!
Life Meets Literature is a participant in the the Amazon Services LLC Associates Program, an affiliate advertising program designed to provide a means for sites to earn advertising fees by advertising and linking to Amazon.com