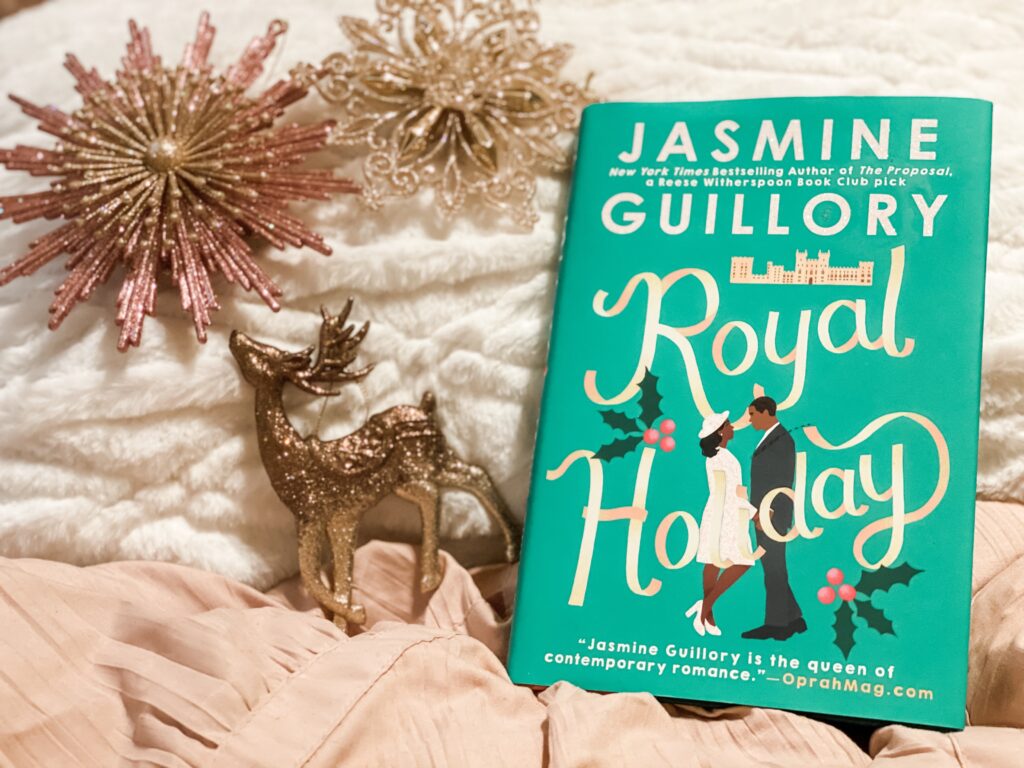 Review: Royal Holiday by Jasmine Guillory
Christmas is my absolute favorite time of year. While this time of year is a difficult one for me since losing my mom, I find comfort in the holiday season and spending it with my family. I feel the most fulfilled when I'm surrounded by Christmas decorations, listening to Christmas music, and playing with my godchildren. Curling up on the couch with a hot cup of coffee and a warm blanket next to the tree watching The Family Stone or Elf is my definition of the perfect cozy night around this time of year. As much as I've always been a book lover, I've never really been one to go for Christmas themed books for some reason. But now that I've really been trying to read more intentionally, I wanted to try some out this year!
I wandered down the book aisle at my local Target and saw a few different options. I saw one that everyone always recommends: Christmas Shopaholic by Sophie Kinsella. But the one that caught my eye the most was Jasmine Guillory's newest novel, Royal Holiday. The gorgeous green cover was so festive and caught my eye instantly; I had to pick it up! Reading through the summary, I saw that it was actually a romance novel! Now, I love fiction so much but I NEVER go for romance novels. I don't really know why, but they just have never really interested me much, but I decided to take a chance on this one. I'm so glad I did!
Royal Holiday is about a woman named Vivian, a middle-aged social worker from Oakland, CA. This piqued my interest because I live just over an hour away, so I immediately felt a connection to her story! Her daughter, Maddie, is a stylist and has been hired by the British Royal Family to style the duchess for the Christmas holiday. Since Vivian never takes time for herself, Maddie suggests that she join her! The story takes us along their trip to the gorgeous estate in northern England where the royal family stays for the holidays. There, Vivian is introduced the Queen's Private Secretary, Malcolm Hudson. Their chemistry is real from the beginning, but their lives are an ocean apart. The novel takes us through their romance with the end of Vivian and Maddie's trip looming over them.
My favorite part about the novel is that it brought back that feeling of winter vacation as a kid when you had no responsibilities and were able to escape reality and get lost in the magic of Christmas. It also showed readers how important it is to not only treat yourself from time to time, but to be able to let go a bit and be open to new experiences, no matter your age. It gave readers a portrait of a fun, respectful romance between two partners who learned how to communicate well in a healthy way. I think we all need more examples of that. Overall, this was a sweet, romantic story about a couple learning to overcome the challenge of time and distance. I recommend this book for anyone who is a fan of romance novels, Christmas themed books, or both. It's also a great introduction into the world of romance novels because this was my first one! I'm open to others now that I've tried one out! It was a quick read, I finished it in under a week so it's perfect even for those of you that have a busy holiday season. So, you can read a bit here and there between baking Christmas cookies and finishing your holiday shopping and wrapping! It was a fun, festive read that helped get me even more in the Christmas spirit.

Shop the Christmas books & movies referenced in this post!
Life Meets Literature is a participant in the the Amazon Services LLC Associates Program, an affiliate advertising program designed to provide a means for sites to earn advertising fees by advertising and linking to Amazon.com