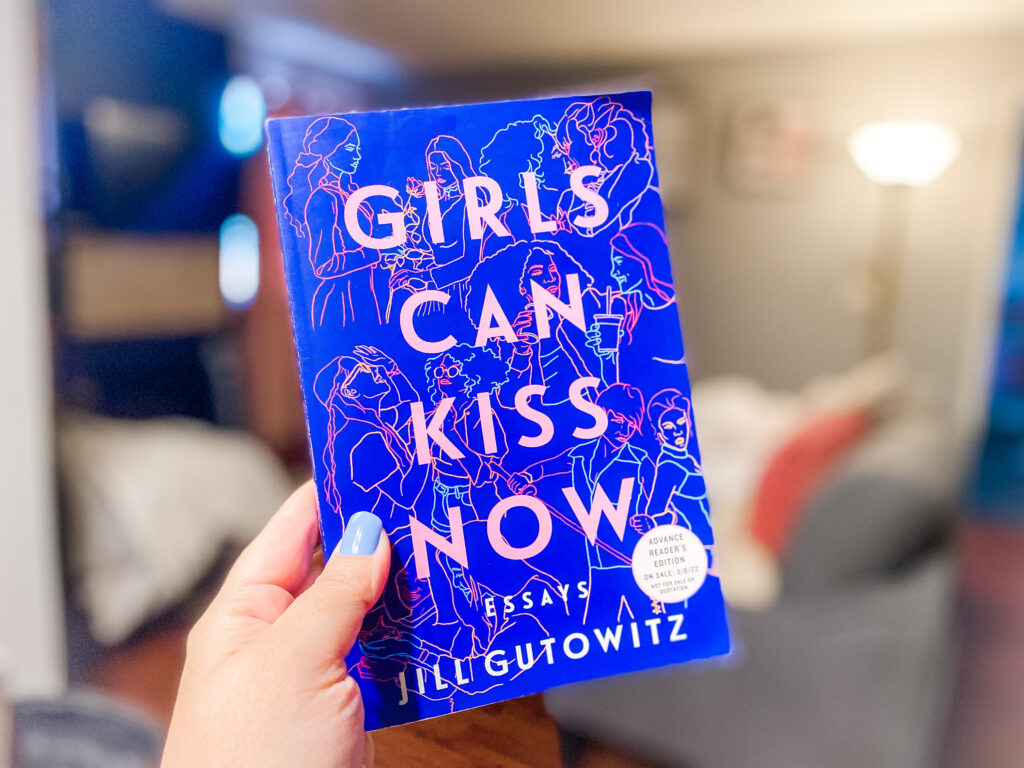 As most millennials raised in the 90s and early 00s, I was fascinated by celebrity culture. We grew up in an age where celebrities' every move was documented and broadcasted to the world, for better or for worse. We know enough now to understand that this has had a big effect on our culture and self-esteem. When the people being praised on tv and online don't look like you or carry the same identities that you do, it can affect the way that you view yourself and how you fit into the world. In a collection of essays called Girls Can Kiss Now, writer Jill Gutowitz examines celebrity and pop culture through the lens of her own life and how it impacted the way she saw herself. Girls Can Kiss Now publishes on Tuesday March 8, 2022 from Atria Books!
"Jill Gutowitz's life—for better and worse—has always been on a collision course with pop culture. There's the time the FBI showed up at her door because of something she tweeted about Game of Thrones. The pop songs that have been the soundtrack to the worst moments of her life. And of course, the pivotal day when Orange Is the New Black hit the airwaves and broke down the door to Jill's own sexuality. In these honest examinations of identity, desire, and self-worth, Jill explores perhaps the most monumental cultural shift of our lifetimes: the mainstreaming of lesbian culture. Dusting off her own personal traumas and artifacts of her not-so-distant youth she examines how pop culture acts as a fun house mirror reflecting and refracting our values—always teaching, distracting, disappointing, and revealing us.

Girls Can Kiss Now is a fresh and intoxicating blend of personal stories, sharp observations, and laugh-out-loud humor. This timely collection of essays helps us make sense of our collective pop-culture past even as it points the way toward a joyous, uproarious, near—and very queer—future.
I spent most of my reading experience with Girls Can Kiss Now laughing out loud. I related to so much of Jill's experience growing up as a young child in the 90s and 00s. This felt far more personal than other non-fiction titles and essay collections. It felt like a conversation with the author, and I absolutely loved her writing style. I also teared up as Jill opened up about some difficult moments in her past that moved me and made me examine my own life and experiences, particularly with past relationships and what I accepted as normal.
This book was brought to my attention by one of my best friends, Mariah, who is a fan of Jill Gutowitz and I am so happy she helped me discover it! I cannot recommend this enough. I learned, laughed, and cried throughout the book and found myself wishing it were longer! Do yourself a favor and pick this up when it drops this Tuesday!
Click HERE to pre-order Girls Can Kiss Now from a Seat at the Table Books in Elk Grove, CA! It will be available everywhere on Tuesday March 8th!