Review: In a Holidaze by Christina Lauren
I know that it's only October, but for me, that is the start of the coziest time of the year. That also means that it's officially time to bust out all the holiday things that make me happiest. Fall is my favorite season and I love Christmas so much. I try to start getting excited and celebrating as early as I can so that I enjoy the season as much as possible. I knew I wanted to pick up some new Christmas-y books this year to cozy up with a blanket, a cup of coffee, and some candles burning. When I found out that the author duo Christina Lauren had one coming out this year, I knew I had to get my hands on it! Thank you so much to Gallery Books and Simon & Schuster for sending me an advanced review copy!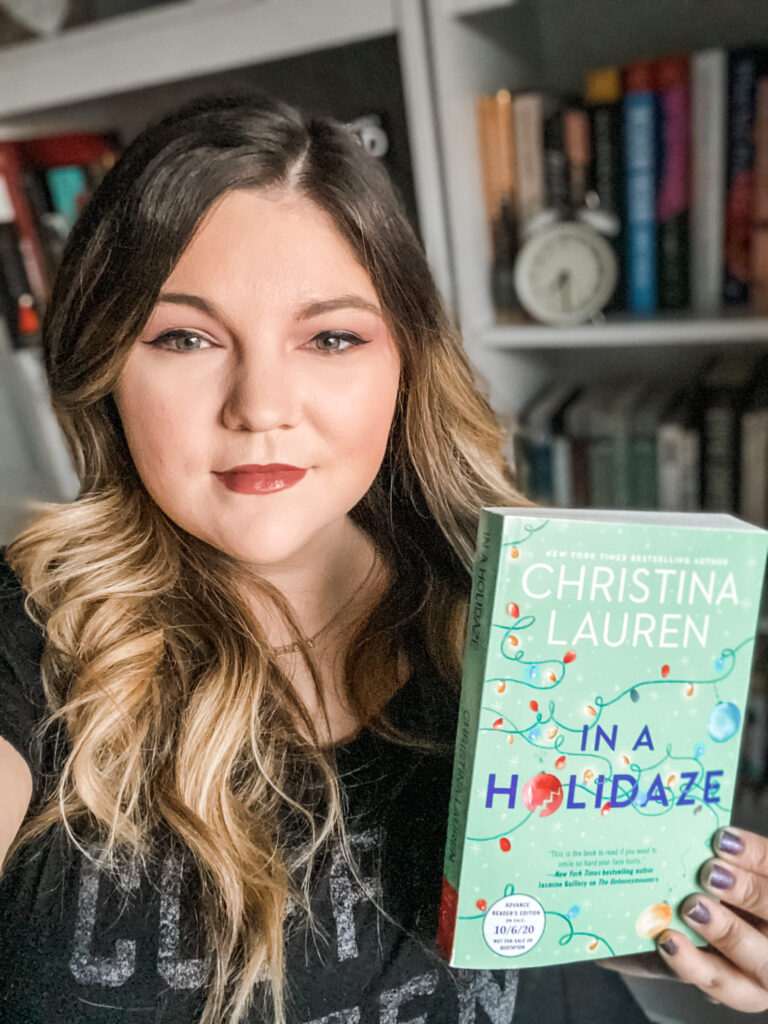 In a Holidaze is set in a cozy, snowy cabin in Utah. Maelyn Jones' family along with her parents' college best friends and their families come together every Christmas to stay at the cabin and celebrate the magical season. This is Mae's favorite place to be, but this year, things just don't feel the same. She's had to move back in with her mom and hates her job. She wakes up the morning after Christmas, filled with regret after drunkenly kissing one of her childhood friends, Theo. But for as long as she can remember, she's had feelings for Theo's older brother Andrew. Not only that, but she finds out that their parents want to sell the beloved cabin. She leaves her favorite week of the year behind downright miserable. As her family drives away, she makes a silent plea to the universe: "Please. Show me what will make me happy." Almost immediately, their car is hit in a horrible accident. She wakes up on a plane on December 20th all over again on her way to Utah. She has to live the week all over again.
I had a feeling I would enjoy this Christmas story, but I did not expect to love it as much as I did! It is the coziest book I've read all year. It gave me that warm, magical Christmas feeling that I long for all year long. Like Mae, I love and long for tradition, especially family Christmas traditions. I don't know if I'll get that this year but it was so lovely to escape our present-day reality into this beautiful book. I loved the depiction of the love story in this as well.
But my favorite part was the lesson in learning to trust yourself and take chances. This is something I've been pondering in my own life. My relationship ended and I immediately had a hard time. But as time has gone on over the last several months, I've seen what a blessing it ended up being. I've progressed in my career, bought a home, and have started living my life for myself. Sometimes, we need life to give us a bit of a push to trust ourselves and take that leap of faith into the things we're the most scared of.
I can't recommend this one enough! A lot of us are looking for fun, festive Christmas books and this one should be at the top of your list this year! I've heard so many people rave about Christina Lauren books and now I totally understand why! Please let me know which are you favorites because I definitely need to read more! Thank you again to Gallery Books for sending this my way!
Click HERE to pre-order In a Holidaze from Harriett's Bookshop in Philidelphia, PA!