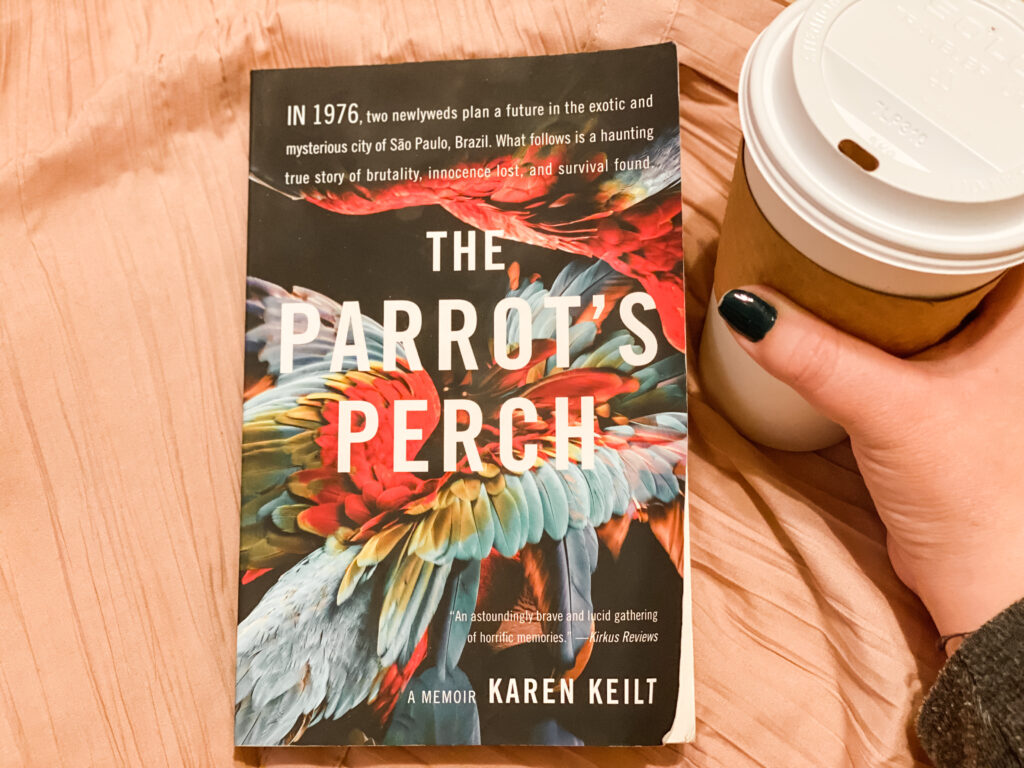 One of the best parts of what I do with this blog is being able to read incredible books that I might not otherwise have heard of. When I heard about the opportunity to participate in the Pop-Up Book Tour for Karen Keilt's memoir The Parrot's Perch, I looked up the summary and applied for it right away. The story sounded heartbreaking and important. A few weeks later, I received an e-mail saying that I was chosen to be on the tour! When the book arrived, I was struck by how gorgeous the cover is. I finished the book I was reading at the time as fast as I could so that I could start Karen's book as soon as possible!
Karen's life began in a family of privilege living in São Paulo, Brazil. Her family lived in a beautiful home, she rode horses, traveled, and lived an all-around privileged life. She met a man, fell in love, had a beautiful wedding, but not long after, the unthinkable happened. Karen and her new husband were abducted from their home in the middle of the night and thrown into a prison where they were tortured for 45 days without ever being given a reason why. Karen had always known that Brazil was corrupt but never thought it would come for her so violently and as traumatically as it did. The Parrot's Perch is Karen Keilt's horrifying, yet brave account of her experiences and what it took to come out of them and become the person that she is today.
After finishing the book two days ago, I was blown away. Karen is such an incredibly talented writer. The way that she is able to convey what happened to her and her thought processes through her experiences is so beautiful and brings you right into her story. There were so many times where I forgot that this is a memoir because it read like a novel. Then, when I would remember that this was her real life, my heart just broke for her. This is the mark of a truly exceptional writer. I cannot stress Karen's bravery and courage enough. It is incredibly hard to write about traumas that we have experienced but Karen has done it with purpose. I'm sure that writing was also therapeutic and healing for her, but it is so amazing that she spoke out and helped to shed light on such a tragic and corrupt system & government. Her bravery will make it so that fewer people have to endure the pain and trauma that she did.
The Parrot's Perch is a story of inner strength and perseverance. It explores themes of what it means to be and feel safe, post-traumatic stress disorder, violence, sexual assault & trauma, and toxic masculinity (if any of these difficult topics are triggering for you, read with caution and be gentle with yourself). It tells the story of a mother's love and what a mother is willing to do and sacrifice for her child (in more ways than one).
Though I have never had do endure the atrocities that Karen was forced to face, I relate to her struggle with PTSD. Like Karen, while I was struggling, I had no idea that I was dealing with PTSD. It took a lot of therapy and personal development to understand it and begin to learn how to cope with it. I also had work to understand some of the decisions that my own mother made for myself and my sister. She made them for us, doing the absolute best that she knew how. I've also discovered how healing it can be to write about difficult experiences. This entire blog is a testament to that. Writing not only helps you to process life experiences, but by putting your writing out into the world, you make it possible for someone else to find it and be helped along the way.
I cannot recommend Karen's book enough. It's one of my top three books of the year. As difficult as some parts were to read, they were written so beautifully. It was an honor to read her work. I hope that by more people reading this incredible book, more can be done to protect the citizens of Brazil from traumas like Karen's. She and her husband were not the only ones; thousands experienced the same. One of my favorite parts of the book is that Karen begins her acknowledgements with the definition of gratitude. I know I've already written about it extensively but gratitude truly has changed everything for me this year. Karen is another example of the life-changing power of gratitude. If someone who has endured what she has can turn their life completely around with gratitude, just imagine what it can do for you. I hope that you pick this one up and you get as much out of it as I did. Check it out Karen's amazing memoir below!
And thank you again to Karen Keilt and the incredible teams at She Writes Press and BookSparks for selecting me to be a part of the Pop-Up Book Tour and for sending me this incredible book!
Check out and order Karen's book below!
Life Meets Literature is a participant in the the Amazon Services LLC Associates Program, an affiliate advertising program designed to provide a means for sites to earn advertising fees by advertising and linking to Amazon.com