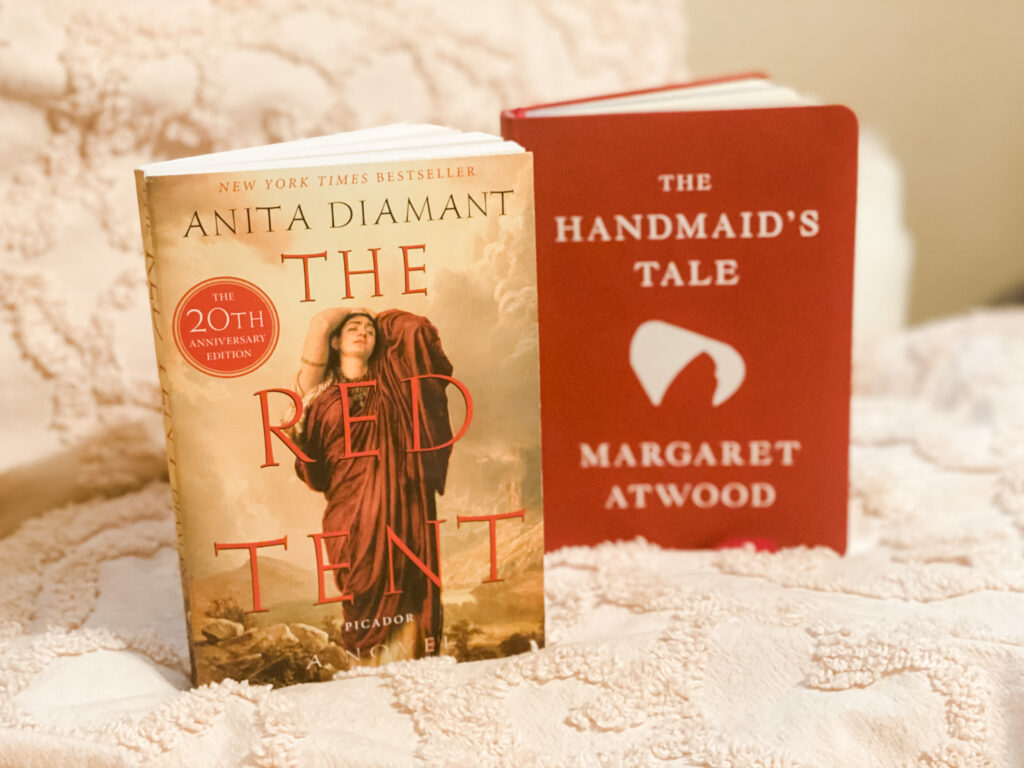 Review: The Red Tent by Anita Diamant
As you have seen me mention a million times on this blog and Instagram, The Handmaid's Tale by Margaret Atwood is hands down my favorite book of all time. I love the Hulu tv series, the movie from the early 90s, and any and all things about The Handmaid's Tale that can help me learn more about the fictional world of Gilead. After watching the Hulu series for a bit, I discovered Red All Over: A Handmaid's Tale Podcast hosted by bay area comedians, Molly Sanchez and Kelly Anneken. First of all, I will always be excited to hear about work coming from women in the bay area, as a northern California girl myself. Although they ended the podcast after the third season of the Hulu show and their coverage of The Testaments, it is still my favorite podcast. They are so incredibly smart and funny and help me to digest this incredibly difficult subject matter in a way that is so meaningful. Plus, it's so nice to listen to comedians that get and make amazing book jokes.
During their podcast episodes they always mention other books they are loving and that are relevant to the content of the show or book. One that kept coming up was The Red Tent by Anita Diamant. If you are at all familiar with The Handmaid's Tale, then you know the importance of the Genesis verse that serves as one of the novel's epigraphs and the basis for the Sons of Jacob's creation of the handmaids:
And when Rachel saw that she bare Jacob no children, Rachel envied her sister; and said unto Jacob, 'Give me children, or else I die.' And Jacob's anger was kindled against Rachel; and he said, 'Am I in God's stead, who hath withheld from thee the fruit of the womb?' And she said, 'Behold my maid Bilhah, go in unto her; and she shall bear upon my knees, that I may also have children by her.'

(Genesis 30:1-3)
With this being one of the founding ideas of Gilead in The Handmaid's Tale, I was incredibly drawn to read The Red Tent, which tells the same story but from the perspective of a woman central to the story. And since I have been reading so many books, I decided to listen to this on audio because I just did not want to wait any longer to dive in!
The Red Tent is narrated by Dinah, a daughter of Leah and Jacob. In the bible, we barely learn much of anything about Dinah. But Anita Diamant expands her story that gives insight into the world of the women in the bible that are largely glossed over. In such a patriarchal religion, women's stories are typically left out or minimized. But as Diamant re-imagines these stories, we are brought into a true sisterhood of strength and resilience. The red tent is a place that the women of the novel go during times of menstruation or to give birth. These sacred times and this place for only women are described in a way that is empowering. The narrative takes us from the marriage of Jacob to Rachel and Leah all the way through the end of Dinah's life.
I cannot recommend this book enough! So much of our literature references biblical stories so even if you are not even remotely religious at all, it's so helpful to know these stories to better understand allusions and symbolism in fiction. Although my mom was Catholic, my sister and I were not really raised to follow any particular faith. So, my knowledge of biblical stories is limited to the New Testament/Christian Origins and the Women in Christianity courses I took in college. But as I pursued my degree in English literature, I found that I wished I had known more so that I could pull more out of the texts I was reading. Reading The Red Tent was such a fun way to do that for me. One of the reasons I decided to major in English literature and sociology while minoring in gender studies is because I am fascinated by women's stories, and up until relatively recently, these stories were largely still untold.
After reading The Red Tent, I saw that there was a Lifetime mini-series based on the book! I will definitely be checking that out soon! I hope you check out The Red Tent; you can head to the bottom of this post for a link to the book. And although there won't be any new episodes of the Red All Over Podcast by Kelly & Molly, I hope you check that out here as well! They are incredibly funny and smart and are always working on amazing projects!
You can order The Red Tent or any of the books referenced in this post here!
Life Meets Literature is a participant in the the Amazon Services LLC Associates Program, an affiliate advertising program designed to provide a means for sites to earn advertising fees by advertising and linking to Amazon.com