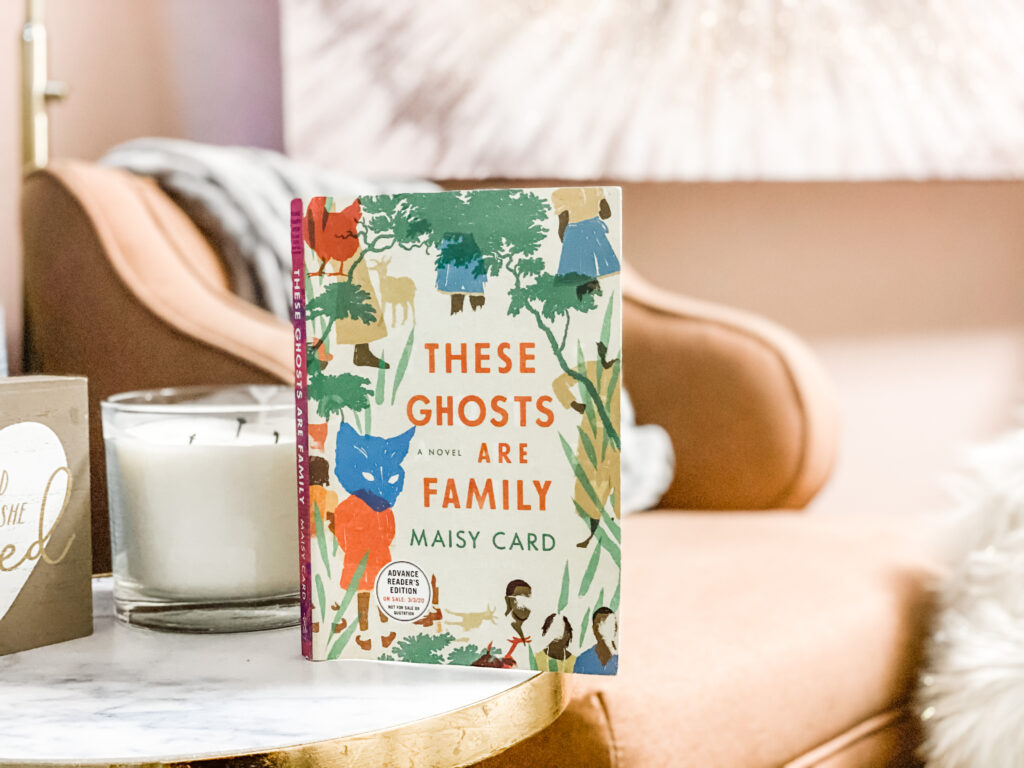 I want to thank the team at Simon Books and Simon & Schuster for sending this ARC of Maisy Card's debut novel, These Ghosts are Family. I saw @bookswithmeg_ on Instagram talk about it and I knew I had to read it. I was so thrilled to open the box and see that Simon Books sent it to me! I particularly love reading debut novels because I love to discover new authors and experience their unique writing style. I was so struck by the beautiful cover; it's as interesting and layered as the novel's story itself.
These Ghosts are Family begins with the story of Stanford Solomon, who we soon discover was originally Abel Paisley. Abel left his wife and children in Jamaica for England where he decided to assume the identity of his friend Stanford who died, while Abel faked his own death. He began a new family and settled in New York. The story begins from his perspective but from there, we are taken on a wild ride through the varying perspectives of all of the different relatives connected to Abel, now Stanford. The novel spans from the early 1800s Jamaica to present day United States and explores how a family was formed and developed on the basis of slavery, migration, and past traumas. Thankfully, this beautifully layered story includes a family tree, which I definitely had to refer back to several times.
I really enjoyed this book. At first, it was confusing to try and understand whose perspective I was reading as they changed, but as the book went on, more pieces of this family's puzzle began to fall into place. I began to understand how such a complicated family history developed. It was so fascinating to start putting the pieces together and to begin to understand why certain characters made certain decisions. I was very interested in exploring the idea of how our ancestors' traumas get passed down and how they affect us today. I wonder about this in my own family, as well as how our unique puzzle came together to create our day to day experiences with one another.
I recommend this book for any fiction fans that love a puzzle! It was so exciting to discover a new layer to the story to help put together the bigger picture as the book went on. I think it's also important to make sure that we are reading books that vary from our own personal experiences. That is the reason that we read books, after all. We need to make sure that our bookshelves are as diverse as the world that we live in. Besides exploring other experiences, it's what helps us to become more empathetic in our lives. Maisy Card's novel, These Ghosts are Family publishes on March 3rd! Make sure to get your hands on this one!
You can pre-order Maisy Card's new book These Ghosts are Family using the link below!
Life Meets Literature is a participant in the the Amazon Services LLC Associates Program, an affiliate advertising program designed to provide a means for sites to earn advertising fees by advertising and linking to Amazon.com