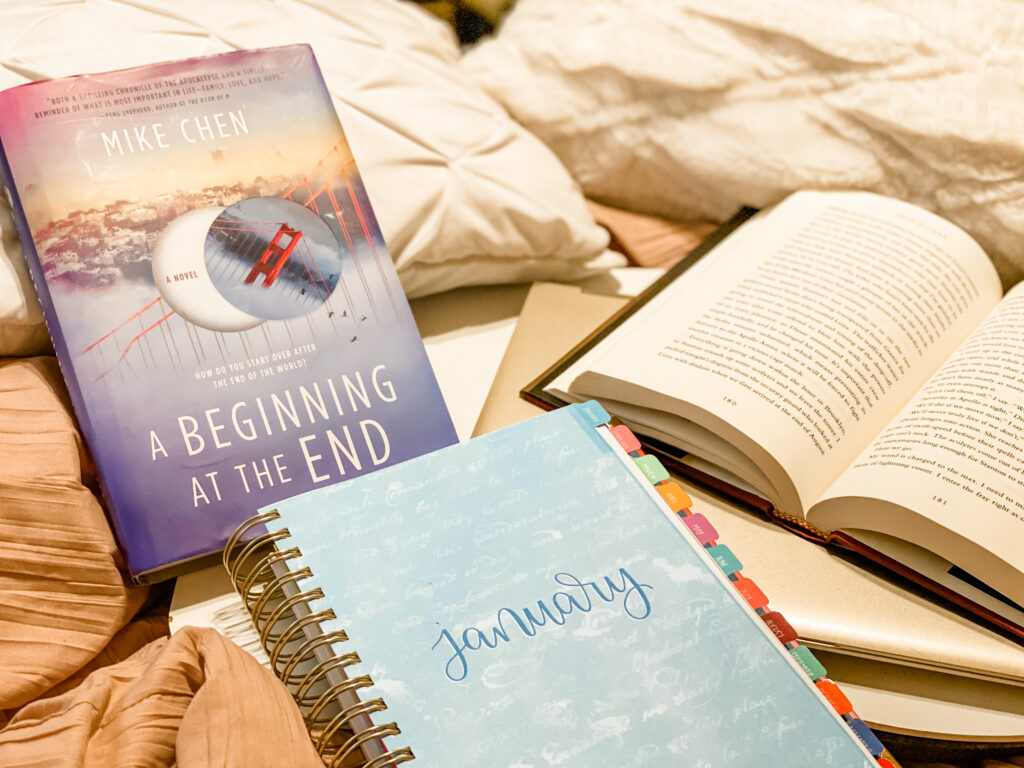 Thank you to the team at Mira Books, Harlequin, & HarperCollins for sending this gifted copy of Mike Chen's newest book, A Beginning at the End. I constantly talk about how much I love dystopian and post-apocalyptic novels so this piqued my interested right away! I knew I'd be interested because the Golden Gate Bridge is featured on the cover. Not only is the book set in San Francisco, but the other is from there as well! This is so exciting! I've lived just a short drive away from San Francisco my entire life so I've spent a lot of time in that beautiful city seeing musicals, taking my dad to Giants games, and just spending the day there at Christmas time. So, I immediately felt a personal connection to this book!
A Beginning at the End takes place in San Francisco after "The End of the World", which is what the characters call the flu pandemic that killed billions of people worldwide. The country went into a state of quarantine to protect the survivors. Once it was safe to come out of quarantine, everyone that was left experienced the country attempting to reset itself and find their new normal. The story follows the lives of four main characters: widowed Rob, his daughter Sunny, wedding planner Krista, and Moira, a former pop-star called "Mojo". The book takes us through how they have been coping since the end of the world and how their stories all converge and interconnect.
One of the things that I loved most about this post-apocalyptic novel is that it focuses more on the emotional impact of the changing world rather than getting caught up in the details of the disaster. The world building is definitely there, but it centers more on how the characters are coping. It faces us with the question of how trauma affects our decision-making abilities. I relate to this idea so much. I know that the majority of the big decisions I make are affected by my past traumas and difficult experiences. I also particularly loved where Mike Chen decided to set his novel. I've spent so much time in San Francisco throughout my own life and could so clearly picture each of the locations he described. In one scene, two characters go to a bar right after a San Francisco Giants vs. Oakland A's game and I clearly pictured it taking across the street from Oracle Park at Momo's! I was JUST there with my boyfriend a few months ago. Even the surrounding cities described were so familiar to me, so I felt even more invested in the story. I even felt like the book had a satisfactory ending! That's rare for a dystopian or post-apocalyptic novel to achieve. But I felt like it answered just enough and still left it open enough to not feel too predictable.
I recommend this book for any fellow dystopian/post-apocalyptic fiction fans. You'll love this one if "end of the world" stories interest you! This was one of the more realistic ones I've encountered. It's definitely entirely different from my personal favorite, The Handmaid's Tale. But fans of Station Eleven by Emily St. John Mandel will likely love this! I read that the author was inspired by the structure of Station Eleven while he was writing this! I started Station Eleven a while back but didn't finish it so now I definitely want to go back and finish it! Overall, I loved A Beginning at the End!
If you want to read any of the above-mentioned books, shop them below!