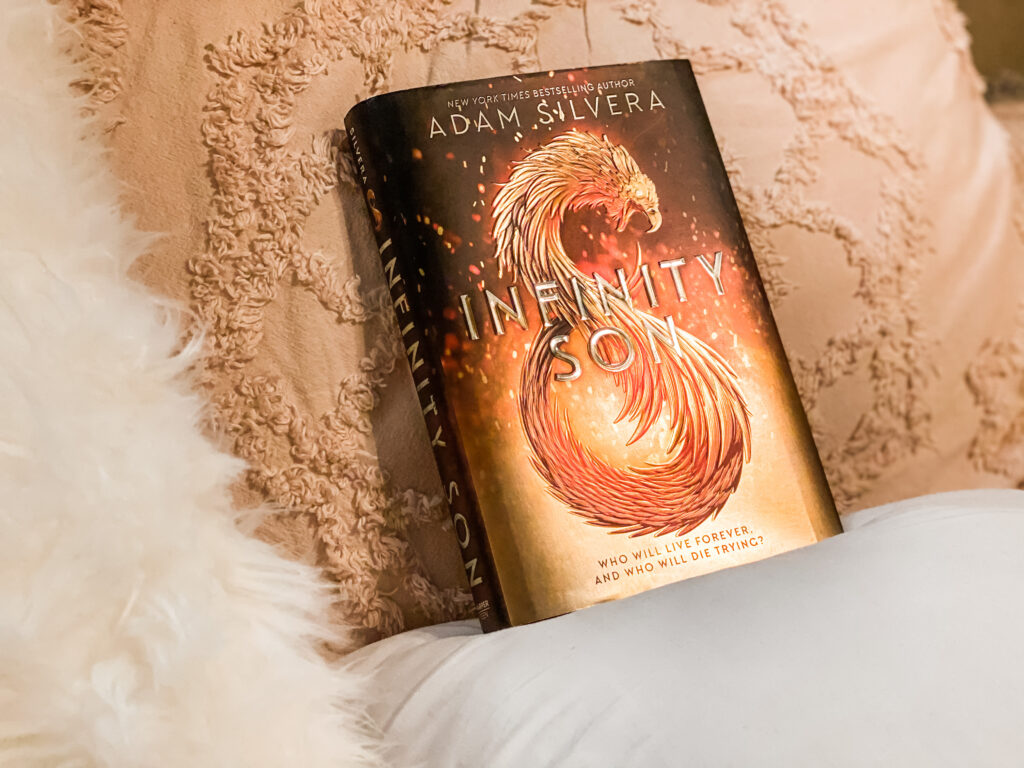 One of my major reading goals this year is to read books from genres that I typically stay away from. I have never really been interested in fantasy before so that is one genre I wanted to tackle somehow this year. The team over at HarperCollins & HarperTeen sent me a gifted copy of Adam Silvera's newest book, Infinity Son! This is the first in the Infinity Cycle series and is Adam Silvera's first fantasy novel! One of my best friends is a huge fan of Silvera and I had heard about his contemporary young adult fiction books so I was excited to dive into Infinity Son as my first step into the world of fantasy books!
Infinity Son takes place in New York and centers on the story of Emil and Brighton, brothers who have grown up in a world where celestials, specters, and magical powers are abundant. On the night of their eighteenth birthday, Brighton is filming a video for his successful YouTube channel when they witness an attack from a specter and Brighton is able to catch it on camera. Brighton has always desperately hoped that he would one day wake up with powers of his own, while Emil wanted nothing to do with this world. One day, that all changes when Emil discovers that he is more than merely human. The brothers find themselves in the middle of a war that spans multiple generations as they discover old secrets that change everything they thought about their own family.
One of the central themes to this book is that of family and brotherhood. In several interviews, Adam Silvera discusses some of his favorite fantasy books and shows. He says that what he loves about them is that they are not stories about witches, demon hunters, and wizards, they are stories about siblings who just happen to have powers or happen to be demon hunters. Infinity Son is action packed. Just when the story starts to settle and slow down a bit, something happens that shakes everything up and the action takes off like a shot again. At times, the action did feel a bit excessive but it did keep me on the edge of my seat the whole time. I loved the tension between the magical world and the ordinary struggles around family, loss, and brotherhood. Parts of the story felt so relatable, even in this completely fictional, magical world.
It was also interesting to see how this world shows up in an age of YouTube, Instagram, and Twitter. It also delved a bit into politics and government when it discussed the rights of magical creatures and how that works into society at large. Another aspect I loved is that one of the main characters is a gay young man. It is so important for LGBTQ characters to be the protagonists of novels. LGBT youth need to see themselves represented in stories that they love.
Overall, I enjoyed this book as my first fantasy novel! Granted, my opinion is coming from someone who is not as familiar with this genre. I think fans of Adam Silvera's or fantasy will love this. I also think it was a fun first jump into this world, so if you're like me and are wanting to try out some fantasy, give this one a shot. This is also the first in a series so I am now excited for the sequel to come out! Thank you so much to HarperTeen and HarperCollins for gifting me this beautiful copy! Infinity Son is available now! You can order your copy using the link below!
Order Infinity Son and any of Adam Silvera's other books here!