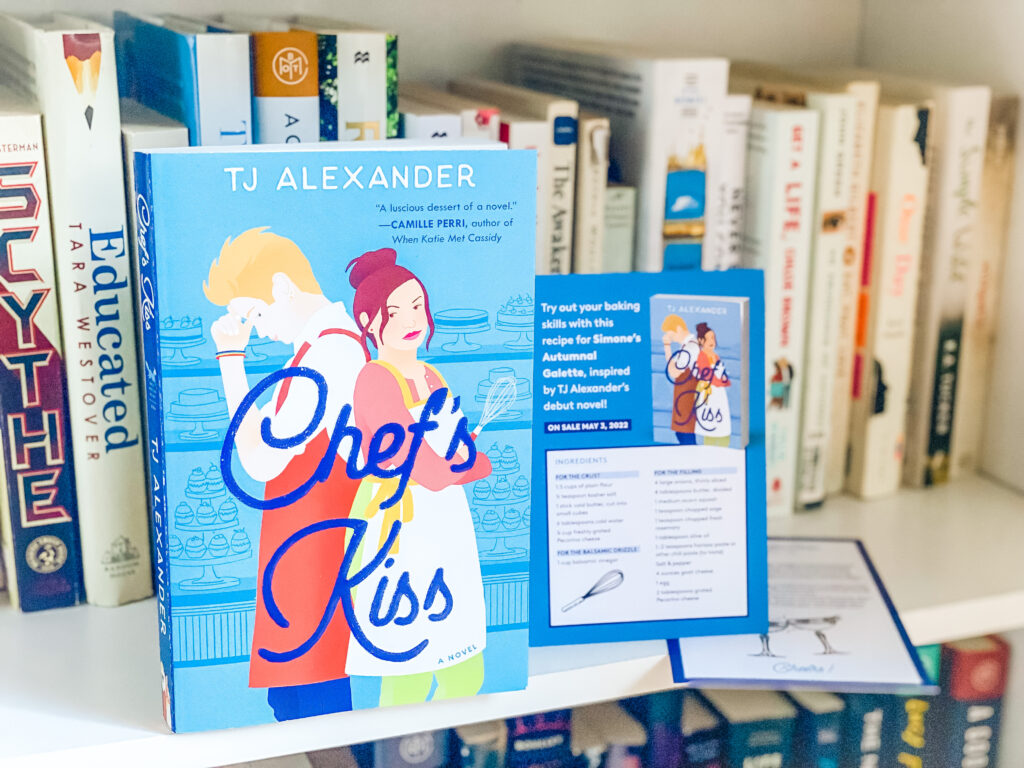 Review: Chef's Kiss by TJ Alexander
I can't be the only one that has found themselves watching cooking shows for longer than they intended to. There is just something so transfixing about watching professionals cook and bake on tv. If you are like me, or just a foodie in general, you are going to want to pick up this adorable queer romcom by TJ Alexander! Chef's Kiss publishes on Tuesday May 3, 2022 from Atria Books!
Simone Larkspur is a perfectionist pastry expert with a dream job at The Discerning Chef, a venerable cookbook publisher in New York City. All she wants to do is create the perfect loaf of sourdough and develop recipes, but when The Discerning Chef decides to bring their brand into the 21st century by pivoting to video, Simone is thrust into the spotlight and finds herself failing at something for the first time in her life.

To make matters worse, Simone has to deal with Ray Lyton, the new test kitchen manager, whose obnoxious cheer and outgoing personality are like oil to Simone's water. When Ray accidentally becomes a viral YouTube sensation with a series of homebrewing videos, their eccentric editor in chief forces Simone to work alongside the chipper upstart or else risk her beloved job. But the more they work together, the more Simone realizes her heart may be softening like butter for Ray.

Things get even more complicated when Ray comes out at work as nonbinary to mixed reactions—and Simone must choose between the career she fought so hard for and the person who just might take the cake (and her heart).
This novel was absolutely amazing from start to finish. I believe that this is the first romcom I have ever read with a nonbinary love interest. TJ Alexander has such a way with words and they made the characters feel so real and lovely. I loved that the narrative structure deviated a bit from the traditional major plot points that we have grown to expect from most romcoms. I cannot wait to see what TJ Alexander writes next!
Click HERE to pre-order Chef's Kiss from a Seat at the Table Books in Elk Grove, CA! It will be available everywhere on Tuesday May 3rd!