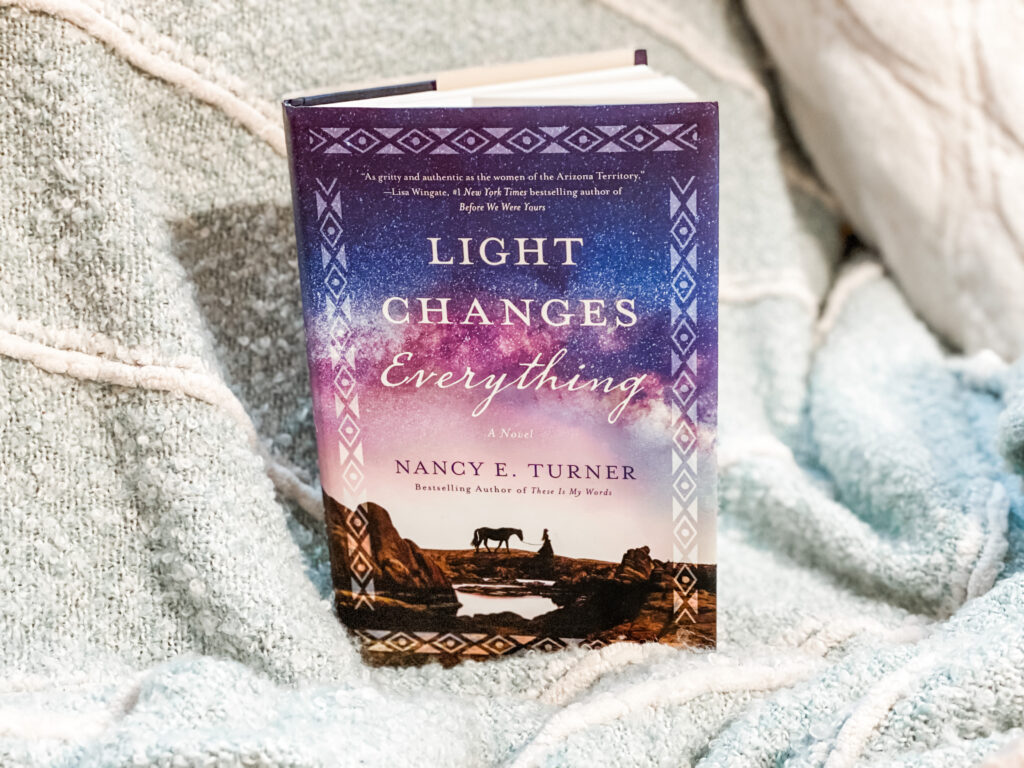 Thank you so much to St. Martin's Press and Thomas Dunne Books for inviting me to be a part of the Blogger Tour for Light Changes Everything by Nancy E. Turner! When I read that there were some references to Jane Austen and Pride & Prejudice in this book, I was intrigued! But other than that, I really did not know what to expect from this novel. It seemed like a pleasant enough story so I was happy to read it. But WOW, was I blown away by this book!
Light Changes Everything is a coming of age story for seventeen-year-old Mary Pearl from the Arizona Territory in the early 20th century. Although banned by their mother, Mary Pearl and her sister sneak Jane Austen novels from their aunt and read them in secret. When Mary is introduced to a rich lawyer, Aubrey Hanna, she is swept into a swift engagement promising her a life of wealth and sophistication, so very different from her own humble upbringing. But when Mary Pearl is given the opportunity to attend art school at Wheaton College in Illinois, she puts the wedding planning on hold to pursue an education. Upon her arrival at college, Mary Pearl is thrust into a world she does not quite understand and is forced to adapt.
I expected this book to be quite slow throughout but it was such an electrifying book! Filled with twists and turns, I did not know where the story would go next. The character of Mary Pearl is such an amazing woman, strong in her own convictions. While she is smart enough to learn to adapt to different cultural customs, she manages to stay true to herself and pursue a life that she wants. This is a story about the bonds of family, the affects of societal gender norms, and knowledge being passed down through generations.
I truly did not want this book to end. I had no idea what to expect from it but I definitely did not anticipate this to be one of my favorite books of the year! This is absolutely a five-star read for me. I recommend this book for fans of novels about strong women and those who love a good coming of age story. The only complaint I have about the book is that I wish it were longer so that I could stay with the main character for a longer period of time! You can purchase Light Changes Everything using the link below!
Trigger warnings: rape & sexual assault



You can order Light Changes Everything using the link below!
Life Meets Literature is a participant in the the Amazon Services LLC Associates Program, an affiliate advertising program designed to provide a means for sites to earn advertising fees by advertising and linking to Amazon.com