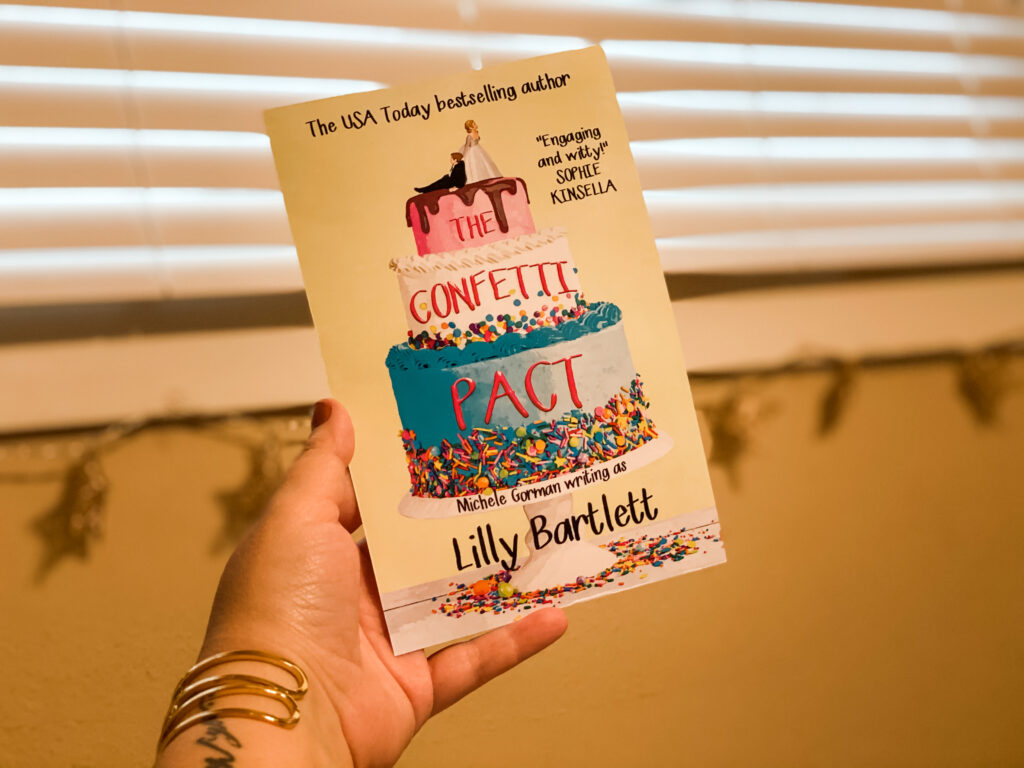 Review: The Confetti Pact by Michele Gorman writing as Lilly Bartlett
Thank you so much to UK author Michele Gorman for reaching out about reading her newest novella, The Confetti Pact! First of all, the cover art is absolutely adorable so I was interested right away. When I read the synopsis, I knew I wanted to read this one! I have been reading a lot of heavier books lately with dark subject matter so I was totally ready for something light and funny and this came at the perfect time! So, thank you so much Michele!
The Confetti Pact centers on lifestyle blogger Nelly, who was recently dumped by her fiancé. Not only is she heartbroken, she is also put in a tough spot because a magazine had contracted with her to cover her wedding in a big feature, but she has no fiancé. One day, she is introduced to Rafael, a coworker from the accounting department at her job whose visa is about to expire. She needs a fiancé, he needs to get married to stay in the UK: match made in heaven or a disastrous plan? Rafael is such a good actor playing along, that Nelly inevitable develops real feelings for him. As they try to keep secrets from everyone, the magazine is documenting their every move in the wedding planning process. Nelly is forced to grapple with her past, the current plan, and what lays ahead in her future.
This was such a refreshing book! I needed a light-hearted read and this totally delivered. Nelly's inner monologue contained so many hilarious jokes, that I found myself laughing out loud along with the book. But while it was funny and upbeat, it did force the reader to analyze what type of partner is best for the narrator and who has her best interest at heart. Can a relationship of convenience really be the best idea in the long run? Or can a fresh perspective help you see what is really important in life? It also had me questioning how much time I spend on social media. Nelly is constantly on her phone and is so focused on finding and creating content for Instagram that she was constantly distracted when it came time to being with Rafael. It was a wonderful reminder to focus on being more present.
This novella is such a fun read, I recommend it to anyone that loves comedies or romance! I'm going to keep my eye out for the author's other titles now because they are wonderful to read in between some darker, more serious books. I hope you check The Confetti Pact out! And from now until the end of February 2020, the pre-order price for the e-book is only $2.99! In March, it will go back up to $9.99 so pre-order now! Valentine's Day is in a few days so this is the perfect month to read a great rom-com! Pre-Order using the link below!
Pre-Order The Confetti Pact below for only $2.99 before the price goes back up in March!
Life Meets Literature is a participant in the the Amazon Services LLC Associates Program, an affiliate advertising program designed to provide a means for sites to earn advertising fees by advertising and linking to Amazon.com