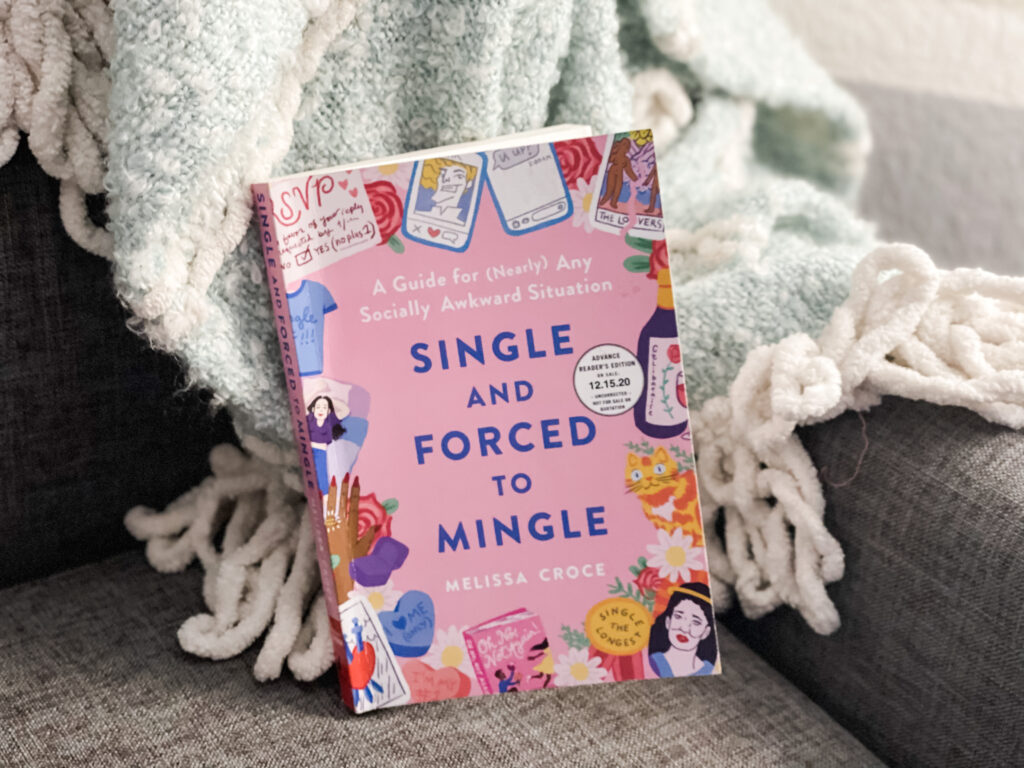 As of May of 2020, I've been back to living the single life. I've discussed it briefly here on the blog, but over the first weekend in May, my relationship of two years ended abruptly with the decision being made for me by my ex. As you can imagine, it has been an emotionally tumultuous experience, so I have been hesitant to write about it much. But now that it's been about eight months, I finally feel ready to write about the topic. Recently, I learned about a soon to be released book by Melissa Croce, called Single and Forced to Mingle: A Guide for (Nearly) Any Socially Awkward Situation. Talk about incredible timing! Thank you to Atria Books for reaching out to me about this release! Single and Forced to Mingle will be available on Tuesday, January 5, 2021.
As many of us know, being single can be amazing, but it presents some particular challenges in a world that is constantly pushing us to be in a relationship. Broken up into nine parts, Melissa Croce takes us through various situations that are bound to come up in our lives. She hilariously talks her reader through each of them with witty advice, while simultaneously helping them to feel less alone. A few favorite topics/sections of mine include: "If Classical Literary Heroines Were Modern-Day Millennial Women", "Cocktails Every Single Person Should Know", and "Patron Saints of Single People, Both Real & Fictional". Along with funny advice and commentary, Croce includes fun quizzes, ideas, and even a little M.A.S.H., for those of us that remember!
This was such a fun read! Melissa Croce must be about my age because I related to so much of what she wrote about. One of the real challenges to being newly single is the feeling and fear of being along. Getting through a pandemic can feel like a lonely experience, and let me tell you that going through a break-up DURING a pandemic is a special level of hell. This book reminded me that being single can be a fun period in one's life. It helped me to laugh at the awkward situations and to be grateful for the freedoms that I have as a single lady. It was a pretty quick read and I LOVED the quizzes she included. I would love to hear her take on online dating/dating apps since that's about all I can do right now.
Looking back on the last eight months has helped me to reflect on how much better off I am now without my ex in my life. I really believed in the relationship and continuously pushed to make it work, but relationships cannot work if only one person is willing to do that. I deserve someone that understands what I have been through and comforts rather than criticizes. I deserve someone who is consistent, compassionate, respectful, empathetic, and that takes action. I am now free to find that person, rather than wasting two years on someone that didn't deserve what I brought to the relationship. Melissa Croce's new book helped me to find the fun in moving forward in this new chapter of my life.
Click HERE to pre-order Single and Forced to Mingle from Bookshop Santa Cruz in Santa Cruz, CA! It will be available on Tuesday January 5, 2021!