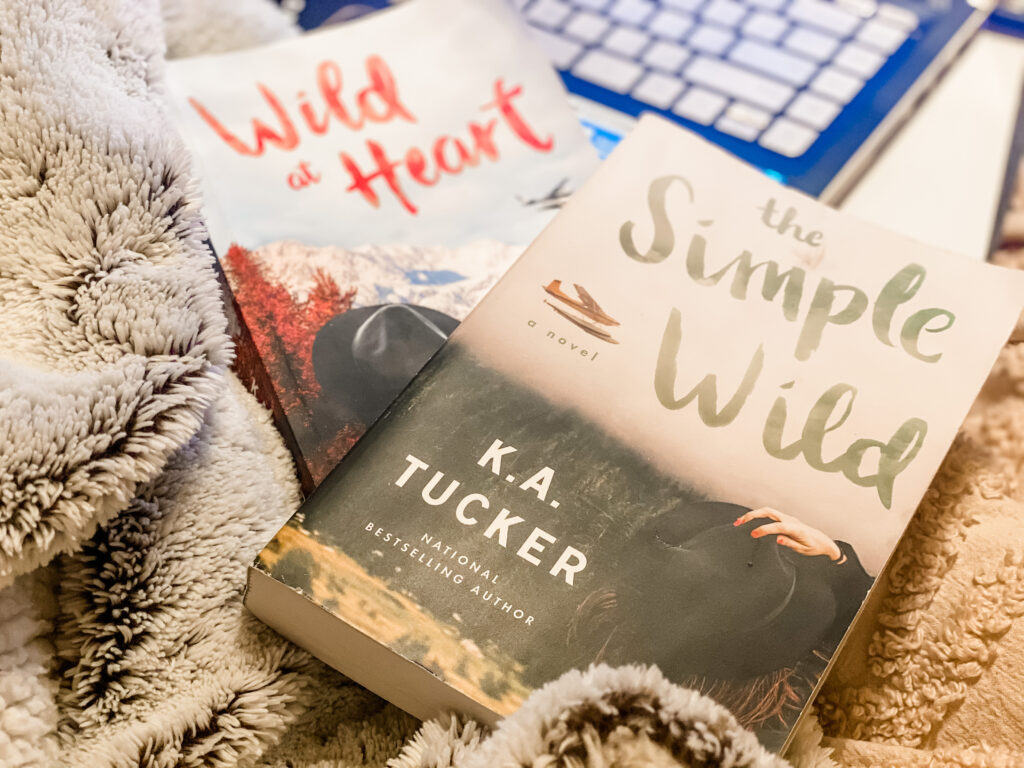 Contemporary romance novels are books I don't typically gravitate towards, but I've been open to reading some. One that has been making the rounds all over Bookstagram is K.A. Tucker's The Simple Wild. I started seeing that beautiful cover everywhere and I had several followers recommend it to me. I mentioned the book to my sister and she got it for me for my birthday back in February. I was so excited to dive in. Once I picked it up, I just could not stop reading!
Calla Fletcher is a lifestyle blogger in Toronto that just got laid off from her day job. As she grapples with this life change, another even bigger development is on the horizon. She receives a call from Alaska about her father. When Calla was two years old, her mother took her from their home in Alaska to leave her dad and his life of flying planes to a more stable life that her mother craved in Toronto. Calla has not spoken to her father in twelve years. But the surprise phone call brings bad news: Calla's dad Wren has been diagnosed with lung cancer. As reluctant as she was to speak to her father, she knows she needs to fly to see him; this could be her last chance. Life in Alaska couldn't be farther from the life she knew in the city. A young pilot named Jonah that works for her father points out how out of place she is, but she continues to attempt to prove him wrong. As tensions rise between the two, Calla senses something else brewing beneath the surface with Jonah. Calla's mother warned her of her past, telling her not to fall in love with a pilot. Will history repeat itself?
This was hands down, one of my favorite books of the year. K.A. Tucker has such an incredibly engrossing way of writing that just pulls you in. The story never lagged and just kept on going. Some books tend to dwell on parts of the story that don't seem very important and can start to feel slow in some parts, but I never felt that with The Simple Wild. Scenes lasted the perfect amount of time to maintain my interest and keep me wondering what would happen next and I so appreciated that. I loved the complexity of the relationships and the character development that was so excellently illustrated throughout the novel.
Fans of contemporary romance will love this, and even if you aren't, it may make a fan out of you like it did for me! I'm going to check out Tucker's other work now, because I love her writing style. This did not feel like a formulaic romance novel; it truly felt like its own unique, realistic story. I was sad to see it end, so I immediately ordered the sequel, Wild at Heart. I finished that one last night and I'm so sad it's over already! I wanted to stay in that world as long as possible; a sign of truly great writing. Let me know if you're interested in a review of Wild at Heart! I would love to review it but I know that it would contain spoilers so the review would come with plenty of warnings! I related so strongly to so many of the themes in the second book and would love to write about them.
Order the book and/or the sequel below!
Life Meets Literature is a participant in the the Amazon Services LLC Associates Program, an affiliate advertising program designed to provide a means for sites to earn advertising fees by advertising and linking to Amazon.com