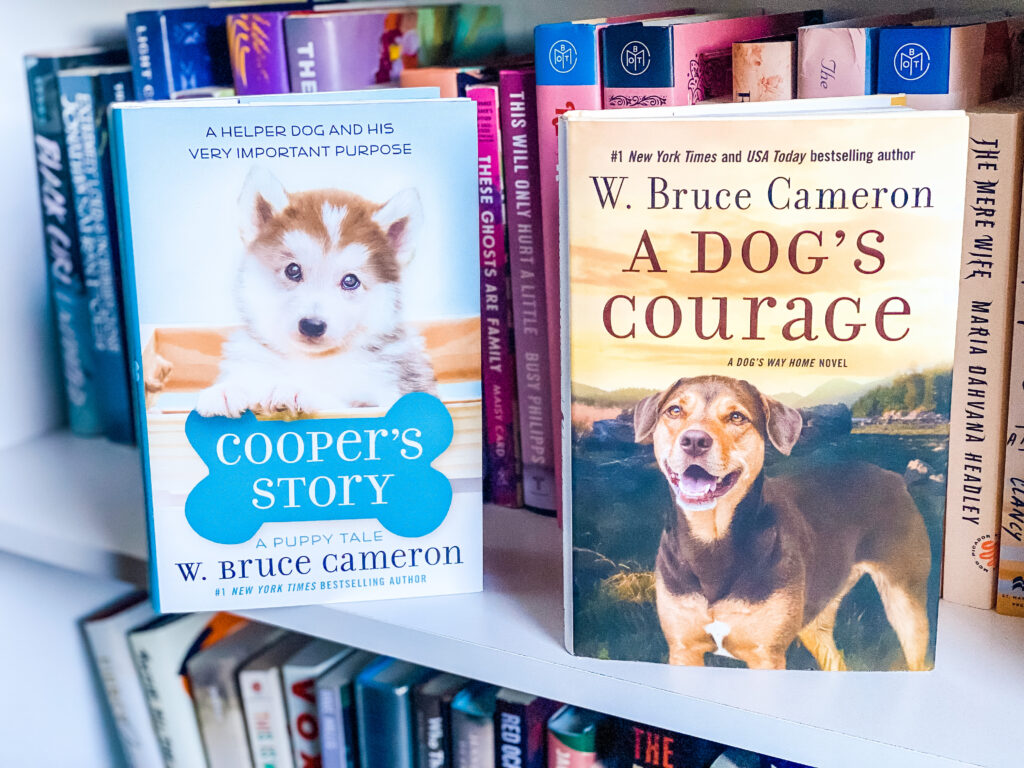 In my first ever author interview, W. Bruce Cameron (#1 New York Times bestselling author) and I discuss his journey as an author and his bestselling books such as A Dog's Purpose, A Dog's Courage, and his Puppy Tales series! Bruce has two new books out this year that I've already had the privilege of reading. Thank you to my friends at Forge and Starscape Books for my gifted copies in exchange for an honest review!
Head to the end of the interview for my mini reviews of A Dog's Courage and Cooper's Story: A Puppy Tale, both by W. Bruce Cameron and both available now! Without further ado, here is my interview with W. Bruce Cameron with some help from my godchildren (some of his biggest fans!) Thank you so much to Bruce for taking the time to answer our questions!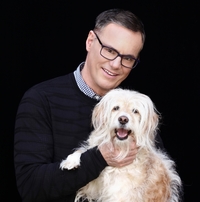 How did you get your start as an author?
I literally can't remember a time when I did not want to be an author. I assume I began writing my first novel when I was still in the womb. To me, there was nothing more exciting than being an author. I suppose I pictured tickertape parades and being featured as a guest on The Tonight Show on a regular basis. It was only in later life that I discovered that mainstream society holds an author in about the same amount of regard as it has for "professional sun-tanner." By then, it was too late: my ambitions were focused and intense and I couldn't imagine doing anything else.
A long time ago, literally before the invention of the World Wide Web, I decided to start writing what I called The Cameron Column as an email humor column. The idea I had was that I would garner so many subscribers that eventually I would be able to convince a publisher to print one of my books. It was such a stupid idea it worked. I eventually generated more than 50,000 subscribers, and as result was given a job writing humor columns for the Rocky Mountain News. Even though my columns were so bad the newspaper folded, I was able to secure a publisher for a book-length version of my most popular essay: 8 Simple Rules for Dating my Teenage Daughter. That started my career of writing humor books.
What advice do you have for aspiring authors?
Understand that to write about different worlds you really need to live in them somehow. It is certainly possible to write a Western novel that takes place in the year 1850, even though you can't go back in time to truly experience what life was like. But you can visit ghost towns, you can spend nights in Colorado, and you can do other things to broaden your understanding of the era. You can research, you can watch movies, you can drink in everything until the world seems as real to you as the one in which you are living.
If you're young, and your parents are not willing to let a third grader take the car and drive around the western United States for a couple of years, you might rather turn your attention to a world you know. It may be difficult to believe, but most of us adults are no longer in third grade. If you write about third grade, write about what it is like to you right now to be a third grader. You will surprise us with things that we have long forgotten, and experiences that are totally new to us because when we were in third grade, things hadn't been invented, like the Internet, or water. Whatever your age, your place in life is a wonderful laboratory for you to give thought to what is happening that is unique and interesting and that would make a good story.
My family loved the tv show 8 Simple Rules, based on your column and book 8 Simple Rules for Dating My Teenage Daughter. What was it like to see your work be adapted for tv for such a large audience?
8 Simple Rules was loosely based on my own life. Watching episodes being made was like watching a troupe of actors doing an artistic interpretation of my own family situation. Of course, the real children were not happy with their TV versions, but that's what they get for being such difficult teenagers; I was able to start a career based on them.
Most of your books are written with the dog being the narrator. How do you imagine how a story is told from a dog's perspective, and how is it different from a human's?
Dogs are much more accepting of human schemes and plans than humans are. Imagine how you would feel if all of a sudden one day a family member picked you up and carried you to the bathtub and scrubbed you? To a dog, a bath is just something to be endured. I also believe dogs are always optimistic that everything will turn out to be even better than it already is. Humans usually are far more pessimistic about the future. We'd all be happier if we were more like dogs.
The last four questions are from my godchildren Gabriella, Aubrey, Destiny, and Anthony, who are huge fans of your A Dog's Purpose Puppy Tales series and the movie A Dog's Purpose!
What inspired you to write your Puppy Tales series and base it off of the perspective of different dogs?
Children of all ages were drawn to my dog books – A Dog's Purpose and A Dog's Journey in particular. However, those weren't really written to be read by young children and there are a lot of adult themes woven into them. I had parents and teachers complain to me that I had come so close to writing novels for children but then screwed it up with all my adult conflicts. I decided, therefore, that I should set out to make books that are more accessible to children. With my Lily to the Rescue series, I now pretty much cover all grades of schoolchildren who are ready to read.
So far, what is your personal favorite book that you have written in the Puppy Tales series? Why?
Honestly, it has to be Cooper's Story, the tale of a dog who is recruited to be a service animal despite the fact that he thinks he has a life figured out: it's supposed to be about having fun every day. He struggles with the concept of becoming a working dog, but when it clicks for him, it's because of his love for his boy, Burke. I also love that my editors gave me permission to put more human drama and conflict into Cooper's Story that might be true of some of my other books.
How did you react to seeing your books play out on screen in the movies?
I was lucky enough that my writing partner (my wife, Cathryn Michon) and I were screenwriters on all three of my movie projects (so far). So we not only were able to witness the process, we were fully involved and engaged in making the films.
Reading a book is necessarily a solitary act. Even if a librarian is reading the book to a group of children, each child is forming the images mentally and has an individual take on every scene and character. A movie, though, can be a group event where everyone sees and hears exactly the same thing at exactly the same time. It is so much fun to picture grandparents, grandchildren, parents and aunts and uncles all together watching our movies and experiencing the story together.
Do you have any dogs? And what are their breeds and names?
I have cohabitated with a whole bunch of different kinds of animals, but currently I'm down to just a single dog. His name is Tucker and he's 24 pounds of scruff. He is the only dog I have ever met who truly never wants to go for a walk. He's fine with me going for a walk, but when I get out that leash, he regards me with utter disdain. He gives me a look like, "You go pee on a few bushes and come back and tell me how it went."
We rescued Tucker when he was around eight weeks old. At the time, we lived in a high-rise apartment. Housebreaking a dog under such circumstances requires a keen sense of anticipation. You have to know he needs to go before he does. Very often, if I left it a little too late, I would wind up with a soaked T-shirt and a dog with a smugly amused expression on his face.
Mini Reviews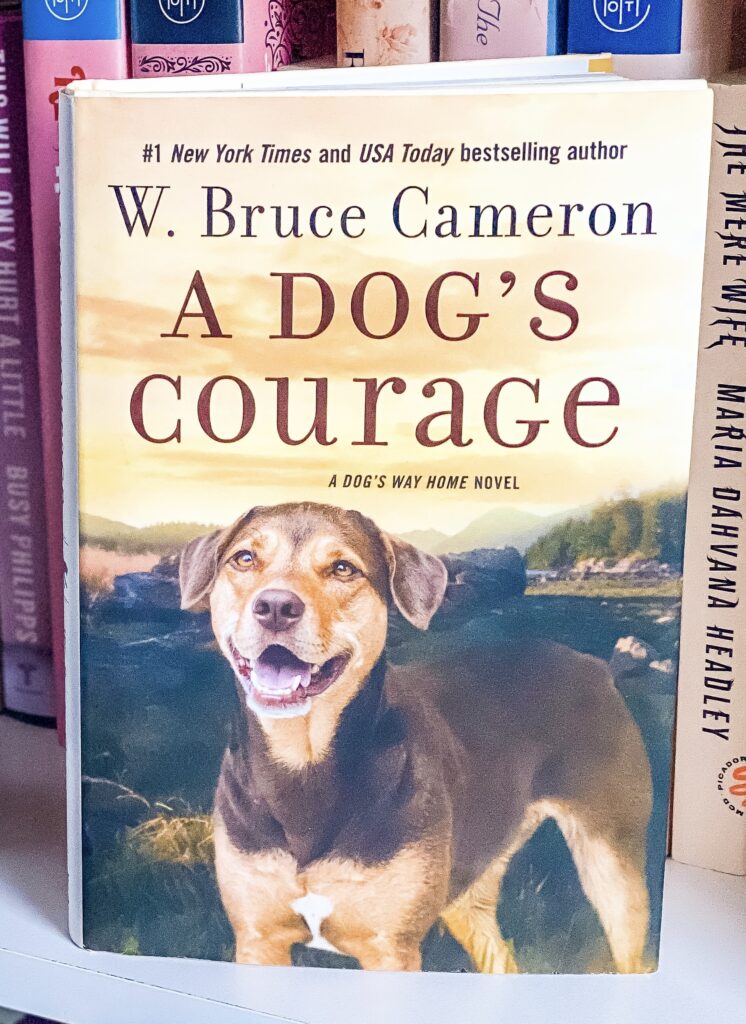 A Dog's Courage by W. Bruce Cameron (Available Now from Forge Books)
"Bella was once a lost dog, but now she lives happily with her people, Lucas and Olivia, only occasionally recalling the hardships in her past. Then a weekend camping trip turns into a harrowing struggle for survival when the Rocky Mountains are engulfed by the biggest wildfire in American history. The raging inferno separates Bella from her people and she is lost once more.

Alone in the wilderness, Bella unexpectedly finds herself responsible for the safety of two defenseless mountain lion cubs. Now she's torn between two equally urgent goals. More than anything, she wants to find her way home to Lucas and Olivia, but not if it means abandoning her new family to danger. And danger abounds, from predators hunting them to the flames threatening at every turn.

Can Bella ever get back to where she truly belongs?"
This was such a surprising read for me! This is the first book I've ever read of Bruce's and I see why they make such great movies as well! I felt like I could see the whole thing playing out! It was stressful at times but I loved getting a peek at a disaster like this through the eyes of a beloved pet like Bella.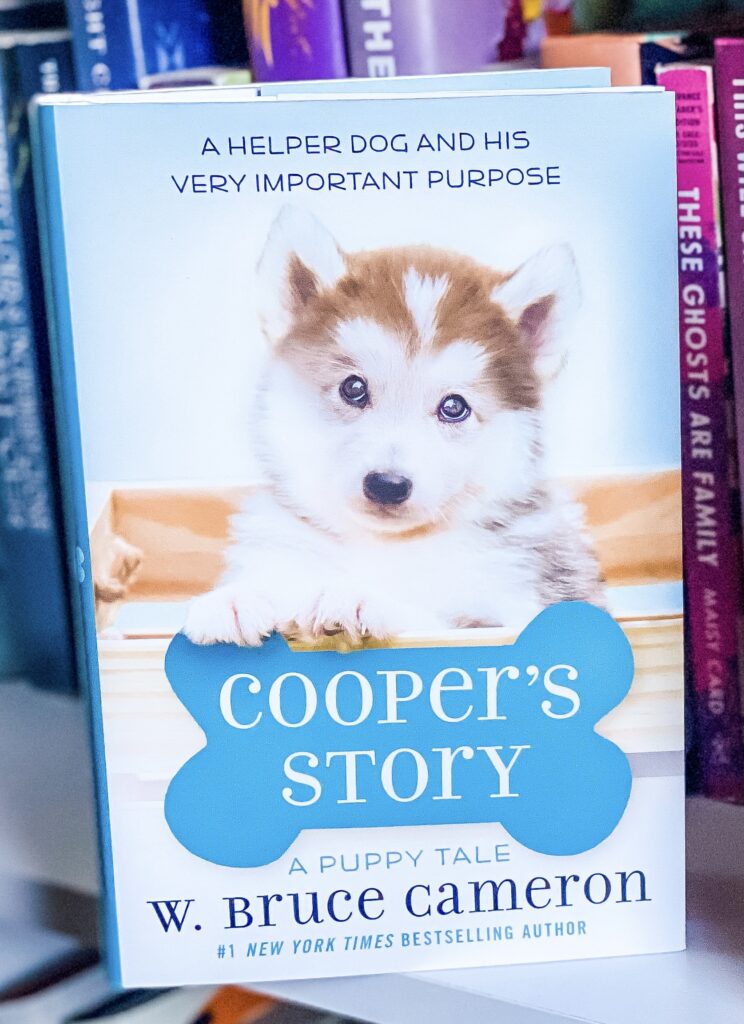 Cooper's Story: A Puppy Tale by W. Bruce Cameron (Available Now from Starscape Books)
"When Cooper — a Malamute-Great Dane puppy — is taken to an adoption fair, he finds the perfect forever home with a boy named Burke. Soon Cooper discovers his very important purpose: to help Burke by pulling his wheelchair, fetching things for him, and assisting him in and out of his chair."
My godchildren are all huge fans of Bruce's A Puppy Tale books! I've gifted them several for birthdays or Christmas over the years, so I scored some major cool points with them for the interview and reading some of their favorite books! I see why these are such great books for kids. Cooper's story, in particular, presented wonderful lessons. This is definitely one you'll want to pick up for the young readers in your life!